Service Express

Reed Nissan Clermont is always looking for ways to better serve our customers. We know your time is very valuable. With that being said, we are pleased to offer various Express Service options for our customers.
If you are unfamiliar with the convenience of Nissan Express Service it takes the hassle out of vehicle maintenance, and at a competitive price! Services available through
Express Service include:
Oil & Filter Change

Tire Rotation OR Tire Rotation & Balance

Tire Repair and Replacement

Drive Belt Replacement

Fluid Exchanges

Battery Service

Air Filter Service

Wiper Blade Replacement

Some Scheduled Maintenance Services
Another benefit of Nissan Express Service…

NO APPOINTMENT NECESSARY.

If you like, you can always call ahead. We hope that extending this added convenience continues to show our dedication to our customers.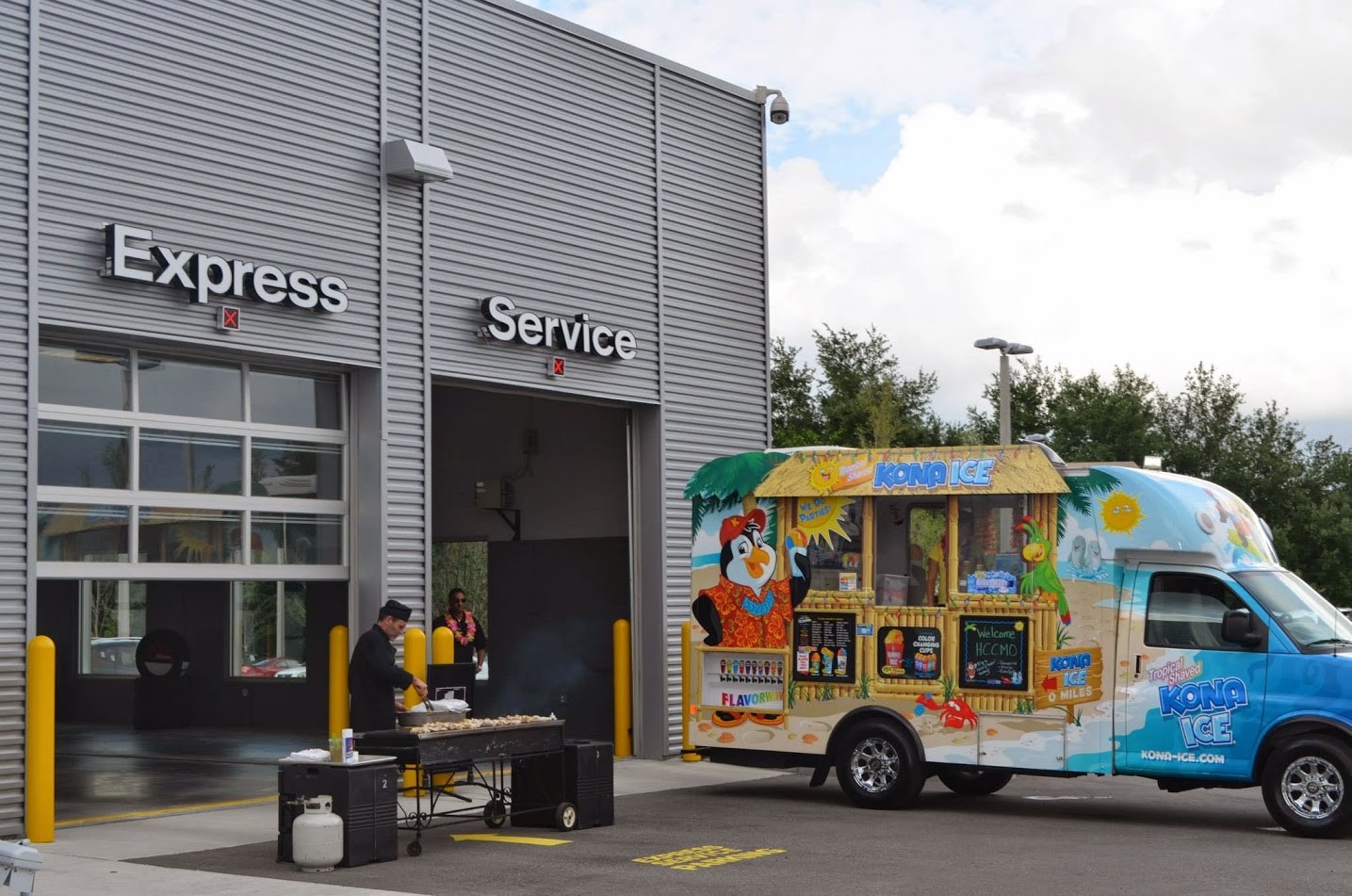 Sales Hours
877.200.4464
| | |
| --- | --- |
| Monday | 9:00 am - 9:00 pm |
| Tuesday | 9:00 am - 9:00 pm |
| Wednesday | 9:00 am - 9:00 pm |
| Thursday | 9:00 am - 9:00 pm |
| Friday | 9:00 am - 9:00 pm |
| Saturday | 9:00 am - 9:00 pm |
| Sunday | 11:00 am - 7:00 pm |
Customer Service Hours
Telephone: 352.708.4840
| | |
| --- | --- |
| Monday | 9:00 am - 6:00 pm |
| Tuesday | 9:00 am - 6:00 pm |
| Wednesday | 9:00 am - 6:00 pm |
| Thursday | 9:00 am - 6:00 pm |
| Friday | 9:00 am - 6:00 pm |
| Saturday | Closed |
| Sunday | Closed |
Service Hours
877.203.2472
| | |
| --- | --- |
| Monday | 7:30 am - 6:00 pm |
| Tuesday | 7:30 am - 6:00 pm |
| Wednesday | 7:30 am - 6:00 pm |
| Thursday | 7:30 am - 6:00 pm |
| Friday | 7:30 am - 6:00 pm |
| Saturday | 7:30 am - 5:00 pm |
| Sunday | 9:00 am - 3:00 pm |
Service Cashiers Hours
352.708.4840 Ext. 207
| | |
| --- | --- |
| Monday | 7:30 am - 6:00 pm |
| Tuesday | 7:30 am - 6:00 pm |
| Wednesday | 7:30 am - 6:00 pm |
| Thursday | 7:30 am - 6:00 pm |
| Friday | 7:30 am - 6:00 pm |
| Saturday | 7:30 am - 4:00 pm |
| Sunday | 9:00 am - 3:00 pm |
Lot Attendants Hours
Telephone: 352.708.4840
| | |
| --- | --- |
| Monday | 9:00 am - 6:00 pm |
| Tuesday | 9:00 am - 6:00 pm |
| Wednesday | 9:00 am - 6:00 pm |
| Thursday | 9:00 am - 6:00 pm |
| Friday | 9:00 am - 6:00 pm |
| Saturday | 9:00 am - 6:00 pm |
| Sunday | 11:00 am - 7:00 pm |
Parts Hours
877.201.7132
| | |
| --- | --- |
| Monday | 7:30 am - 6:00 pm |
| Tuesday | 7:30 am - 6:00 pm |
| Wednesday | 7:30 am - 6:00 pm |
| Thursday | 7:30 am - 6:00 pm |
| Friday | 7:30 am - 6:00 pm |
| Saturday | 7:30 am - 5:00 pm |
| Sunday | 9:00 am - 3:00 pm |
Finance Hours
877.200.4464
| | |
| --- | --- |
| Monday | 9:00 am - 9:00 pm |
| Tuesday | 9:00 am - 9:00 pm |
| Wednesday | 9:00 am - 9:00 pm |
| Thursday | 9:00 am - 9:00 pm |
| Friday | 9:00 am - 9:00 pm |
| Saturday | 9:00 am - 9:00 pm |
| Sunday | 11:00 am - 7:00 pm |
Commercial/Fleet Hours
1.877.262.8936
| | |
| --- | --- |
| Monday | 9:00 am - 9:00 pm |
| Tuesday | 9:00 am - 9:00 pm |
| Wednesday | 9:00 am - 9:00 pm |
| Thursday | 9:00 am - 9:00 pm |
| Friday | 9:00 am - 9:00 pm |
| Saturday | 9:00 am - 9:00 pm |
| Sunday | 12:00 pm - 7:00 pm |