HURRICANE IRMA RELIEF
Was your vehicle affected by Hurricane Irma? Markdown and Reed Nissan have your back. Together we have endured many storms, and together we will rebuild. As part of the Central Florida family, Reed wants to make sure you have a vehicle that's safe on the road. That's why Reed Nissan Orlando and Reed Nissan Clermont are offering Hurricane Relief Assistance to all of those affected by Irma:
· No payments for 180 days!*
· Special recovery financing
· 0% APR
· Post-Irma price reductions on all new and used vehicles in stock
The storm is over, but our community will continue to move forward.

Nissan Vehicle Purchase Program (VPP)

In response to the severe impact of Hurricane Irma in Florida, South Carolina and Georgia, Nissan North America, Inc. would like to extend VPP "Employee Pricing" to individuals and businesses whose vehicle(s) sustained damage. Individuals or businesses sustaining damage or a total loss can take advantage of this special offer that is normally reserved for Nissan employees and their immediate family members.
Who Is Eligible?
Those individuals or businesses whose vehicle(s) were damaged or total loss in the states of Florida, South Carolina and Georgia due to Hurricane Irma beginning September 7, 2017 that can validate the damage through insurance requirements.
Geographic eligibility can be verified by visiting the FEMA website: https://www.fema.gov/hurricane-irma under Declarations for your state.
Employee Pricing
Eligible customers are entitled to the Nissan Vehicle Purchase Plan Discount normally reserved solely for Nissan Employees. The below dealer invoice discount is in addition to all applicable incentives*.
· $750 below invoice on Nissan Versa Sedan, Versa Note and Sentra
· $1,000 below invoice on Nissan Altima, Rogue, Rogue Sport, Xterra, Frontier, JUKE and Nissan LEAF™
· $1,000 below invoice on Nissan NV200, NV Standard Roof, High Roof and Passenger Van
· $1,500 below invoice on Nissan 370Z Coupe and Roadster, Maxima, Armada, Pathfinder, Titan, Quest, and Murano
No Payments for 180 Days!
SPECIAL DELAYED PAYMENT OPTION: Effective with contract dated September 14 – October 2, 2017. Nissan is offering a Special Delayed Payment Option to residents and businesses whose vehicle(s) sustained damage due to Hurricane Irma and qualify for the Nissan North America, Inc. Hurricane Relief Program (VPP "Employee Pricing"). This Special Delayed Payment Option allows qualified Tier 1-4 customers to delay their first payment for up to 180 days for 60 months and up to 90 days for 72 months on retail contracts financed with Infiniti Financial Services.
Qualifying Vehicles
All new Nissan vehicles; except the Nissan GT-R and Nissan Versa S
How To Get A VPP Claim ID
1. Visit InsideNissan.com
2. Select link designated for those affected by Natural Disasters
3. Enter name and select "Hurricane Irma Relief Program"
How To Get Your New Vehicle
1. Print and bring a copy of your VPP Claim ID number to Reed Nissan or Reed Nissan Clermont
2. Identify yourself as a Nissan VPP Customer
3. Select your new Nissan
Please remember to bring:
• Valid driver's license
• Insurance card for proof of ownership
• Insurance claim number and insurance adjuster damage appraisal form, including location, date and cause of damage/loss
Request More Info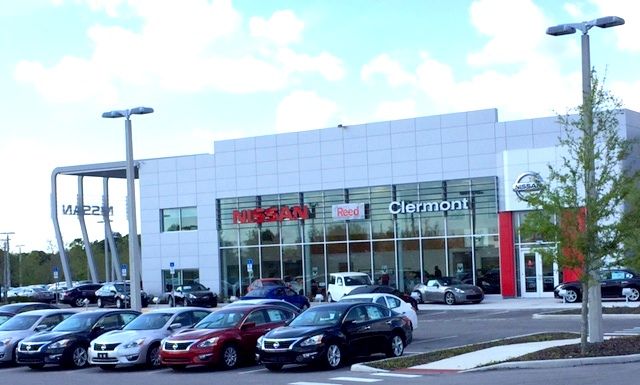 Sales Hours
877.200.4464
| | |
| --- | --- |
| Monday | 9:00 am - 9:00 pm |
| Tuesday | 9:00 am - 9:00 pm |
| Wednesday | 9:00 am - 9:00 pm |
| Thursday | 9:00 am - 9:00 pm |
| Friday | 9:00 am - 9:00 pm |
| Saturday | 9:00 am - 9:00 pm |
| Sunday | 11:00 am - 7:00 pm |
IMAGES ARE FOR REPRESENTATIONAL PURPOSES. THOSE INDIVIDUALS/BUSINESSES WHOSE VEHICLE(S) WERE DAMAGED OR TOTAL LOSS IN THE STATE OF FLORIDA DUE TO HURRICANE IRMA THAT CAN VALIDATE THE DAMAGE THROUGH INSURANCE REQUIREMENTS. PROGRAM ELIGIBILITY IS TRANSFERRABLE WITHIN THE SAME HOUSEHOLD, AND VEHICLE REGISTRANT MUST PROVIDE PROOF OF RESIDENCY. IT IS NON-TRANSFERABLE TO OTHER FAMILY MEMBERS OR FRIENDS OUTSIDE THE HOUSEHOLD. LIMIT ONE NEW REPLACEMENT VEHICLE PER CLAIM (I.E. IF THREE VEHICLES ARE DAMAGED, THE CUSTOMER IS ELIGIBLE FOR THREE REPLACEMENTS). 0% APR AVAILABLE WITH APPROVED CREDIT FOR UP TO 72 MONTHS ON SENTRA (VIN: HY288875), MAXIMA (VIN: HC439722), ROGUE (VIN: HP593695), MURANO (VIN: HN183438); UP TO 60 MONTHS ON ALTIMA (VIN: HN353049), ROGUE SPORT (VIN: HW004055), TITAN (VIN: HN531433), TITAN XD (VIN: HN559123); UP TO 36 MONTHS ON PATHFINDER (VIN: HC906847) AND ARMADA (VIN: H9009013). TWO OR MORE OF EACH MODEL AT THESE PRICES AVAILABLE AT EACH LOCATION. EXCLUDE PRIOR PURCHASES. NO PAYMENTS FOR 180 DAYS: EFFECTIVE WITH CONTRACT DATED SEPTEMBER 14 – OCTOBER 2, 2017. MUST QUALIFY FOR THE NISSAN NORTH AMERICA, INC. HURRICANE RELIEF PROGRAM (VPP "EMPLOYEE PRICING") THIS SPECIAL DELAYED PAYMENT OPTION ALLOWS QUALIFIED TIER 1-4 CUSTOMERS TO DELAY THEIR FIRST PAYMENT FOR UP TO 180 DAYS FOR 60 MONTHS AND UP TO 90 DAYS FOR 72 MONTHS ON RETAIL CONTRACTS FINANCED WITH NMAC. NEW VEHICLE PURCHASE PROGRAM RULES FOR SPECIAL 180-DAY AND 90-DAY DELAYED PAYMENT OPTION - PROOF OF VPP ELIGIBILITY REQUIRED. ELIGIBLE TIERS: TIERS 1 – 4. MAXIMUM TERMS: 60 MONTHS FOR UP TO 180 DAYS DELAYED PAYMENT; 72 MONTHS FOR UP TO 90 DAYS DELAYED PAYMENT. ELIGIBLE RATES: STANDARD AND SPECIAL APR RATES. DELAYED PAYMENT MUST BEGIN EXACTLY 180 OR 90 DAYS FROM DATE OF THE CONTRACT. INTEREST ACCRUES DURING PAYMENT DEFERRAL PERIOD. DELAYED PAYMENT OPTIONS ARE NOT AVAILABLE FOR RETAIL BALLOON CONTRACTS. OTHER CONDITIONS MAY APPLY. SEE DEALER FOR FULL DETAILS.